Connor Hodgson detained for Stockton attack on girl, 10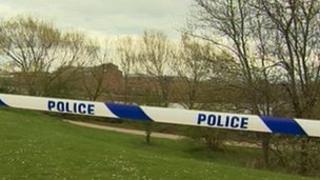 A teenager who throttled, punched and kicked a 10-year-old Teesside girl might never be released back into the community, a judge has said.
Conner Hodgson, 16, had alcohol and drug problems and was smoking cannabis on the day of the attack in Stockton, Teesside Crown Court heard.
The girl was found in April with serious injuries near the River Tees.
Judge Peter Fox sentenced Hodgson to an indeterminate term in custody, with a minimum tariff of five years.
The teenager had earlier admitted wounding with intent to cause grievous bodily harm.
Judge Fox said Hodgson, who is in local authority care, would not be released while he posed a threat to the community.
Covered in blood
The court was told Hodgson repeatedly beat the 10-year-old girl around the head so viciously he could have killed her.
He said he had no idea why he attacked the youngster and could not even remember carrying out the assault.
His victim passed out and was found in Maritime Way covered in blood after a major police search.
The girl, who cannot be named for legal reasons, has been left with serious physical and psychological problems, including post-traumatic stress disorder, the court heard.
Judge Fox told Hodgson he represents such a "significant risk" to the public, he could not say if he would ever be released from custody.
Tony Hawks, prosecuting, said Hodgson wrapped his hands round her neck and applied "severe force".
'Adverse childhood experiences'
He said: "She said that the defendant had put his arm around her neck and said he'd prevented her from breathing. She said that at that point she had gone to sleep, as she put it, and when she woke up the defendant wasn't there.
"She reported to have no recollection of the sustained assault the defendant must have carried out."
A doctor who examined her said she had multiple cuts and bruises due to "severe, blunt force" and concluded: "In my opinion, these injuries represent at least seven blows to the back of the head, four to the face, with pressure to the neck.
"The head injuries and pressure to the neck were potentially fatal."
Hodgson was arrested after CCTV showed him with the youngster.
Duncan McReddie, representing Hodgson, said the defendant had been affected by "adverse childhood experiences" and was "immature".
The girl's mother, who is now on medication, described her daughter as a clever, beautiful girl who knew about the danger of speaking to strangers.
She has made a good recovery but has "ongoing physical and mental problems" including extreme phobias, the court heard.