Cleveland Police misconduct probe: File passed to CPS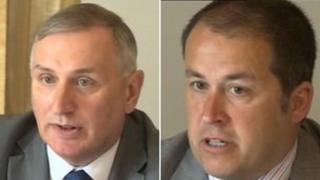 The Crown Prosecution Service (CPS) is to consider whether to charge two Cleveland Police chiefs with misconduct.
Chief Constable Sean Price and his deputy Derek Bonnard were arrested a year ago, and later suspended. Both deny any wrongdoing.
An investigation was carried out, managed by the Independent Police Complaints Commission (IPCC).
It has now passed the file to the CPS and Cleveland Police Authority.
Mr Price and Mr Bonnard, who have both launched legal claims that they were wrongfully arrested, released a joint statement saying they were determined to clear their names and return to work.
Mr Price said: "I am sure the public are concerned that we have been suspended on full pay for such a long time with no criminal charges being brought.
"I share that concern and frustration. I would much rather be back doing the job I love."
Mr Bonnard said: "I am at a loss as to why it is taking so long to deal with the criminal investigation."
Cleveland Police Authority said in a statement: "The file will now be considered by the authority.
"The authority has also received a report from the IPCC relating to an independent investigation carried out into conduct allegations relating to allegations that Mr Price used undue influence to have an individual appointed to a role within the force.
"This report has now been considered by the authority's professional standards panel and sub-committee and the matter will be referred to a full hearing."
Operation Sacristy, a separate criminal investigation into allegations against Mr Price, Mr Bonnard and others is also under way.