World parmo championships return to Teesside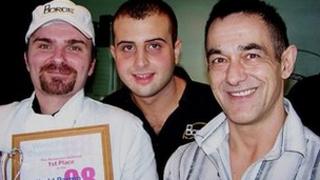 It could be the most hotly contested title of the year - to be hailed as the creator of the best parmo in the world.
The parmo, a chicken or pork dish generally served with chips and salad, is thought to have first been served in 1958 by army chef Nicos Harris in Middlesbrough.
It is now a popular takeaway food around Teesside, and is also served in restaurants.
The title for the Worlds Best Parmo is currently held by Borge Restaurant in Stockton-on-Tees, and has been since 2008.
Holding on to the accolade was a relatively easy job for the family-run business however, as there had not been another competition.
Until now.
Joe Fraser, 23, is the manager of Borge Restaurant on Yarm Lane in the town, and he says the restaurant will be defending its title on 26 August when the competition returns.
Mr Fraser said: "I will be entering the competition again this year.
"I won't be part of the panel like the 2007 winner was in 2008, because the council has changed how they are doing it for this year.
"We entered for a bit of fun, but have definitely noticed more customers coming in asking for parmos since we won.
"It's great to see the food being celebrated, and to see people coming in from outside the area to try them - particularly in the current climate."
Borge claimed the title in October 2008, from previous winner Mike's Return Takeaway in Middlesbrough, run by Mike Featherstone, who died in 2012.
Stockton Council ran the competition on 2007 and 2008 as "one offs", but the decision to bring the competition back to Teesside was taken as the borough's summer show has a heavy focus on food.
The contest will be judged by Mayor of Stockton Lynne Apedaile, judge from the BBC's Masterchef programme Eugene McCoy and BBC Tees presenter Alistair Brownlee.
They will be looking for tenderness of meat and the quality of the sauce among other factors.