Coulby Newham priest Ben Norton back to roots as hairdresser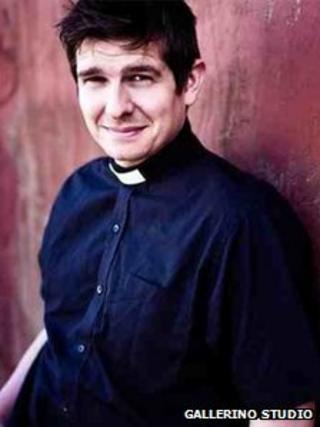 A Teesside priest has returned to his roots by volunteering as a hairdresser to get to know people in his new parish.
Reverend Ben Norton, newly-installed at St Cuthbert's in Marton, adopted similar tactics after being ordained in 2007, in Bridlington.
"I worked with groups of people who don't go to church and I ran a group in a pub and another group with younger people who thought church didn't fit their lifestyle," he explained.
The job of being a pioneer minister at St Cuthbert's brought Mr Norton and his family to Coulby Newham four months ago.
'Spiritual temperature'
The 32-year-old previously worked as a hairdresser for four years after he left school and is drawing on those skills again.
"I wanted to get to know the community after never being this far north before and I wanted to get to know folk around here and get a feel for the place," he said.
"I walked into the shop one day with my collar on and asked if I could volunteer.
"After I told them I was a qualified hairdresser, they agreed to let me work in the barber shop and I'll keep going for as long as they'll have me."
Mr Norton does not wear his collar when he is cutting hair and is quite often amused by customer's reaction when it is revealed.
He said: "I don't wear my collar because sometimes that can put people on the back foot, but people have been warm and friendly.
"When people realise they have a priest cutting their hair, it's quite a shock for them."
The married father-of-three will be looking into new ways of engaging with the community in his role and said his family are supportive of his ideas.
He said: "My family are used to me doing wacky things and they're very supportive.
"I cut my kids' hair and it has saved me a fortune over the years."