Lottery cash boost for Veterans At Ease charity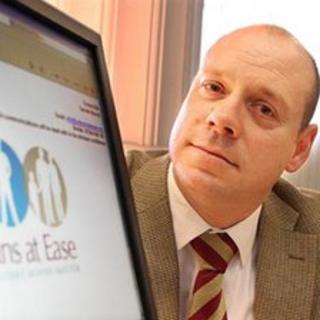 A County Durham charity, set up by a former soldier to help fellow veterans suffering from combat stress, has been given a £380,000 lottery boost.
Former Bosnia veteran Garreth Murrell set up Veterans At Ease after a 10-year army career.
The Spennymoor-based charity offers specialist therapies to deal with post dramatic stress disorder.
The cash, from the Big Lottery Fund, will help to expand services and train more full-time therapists.
Since the charity was set up in 2010 it has worked with 33 veterans from The Falklands, Kosovo, Iraq and Afghanistan.
The extra funding means it should be able to help a further 200 servicemen and their families.
'Devastating effect'
Mr Murrell, who served for 10 years with the Cheshire Regiment, said: "I began to suffer nightmares and flashbacks from Bosnia and in 2008 my world fell apart. I went on eight months long term sick and had suicidal thoughts.
"We specialise in a therapy called Neuro Linguistic Programming (NLP) and is something that doesn't require the veteran to relive any combat experience.
"It helps remove negative emotional attachment to what would in the past have caused the veteran to behave in an unacceptable way.
"In other words, it reprograms the neural pathways in the mind so that the veteran no longer suffers and can get on with their lives."
James Turner, Big Lottery Fund spokesman for the North East, said: "The traumatic experience of war can have a devastating effect on the lives of not just the veterans, but also their loved ones.
"Our funding will help former servicemen cope with combat stress related issues so they can maintain lasting relationships, enjoy a stable family life, secure employment and be active in the community."