Mothballed Ensus biofuels plant at Wilton to reopen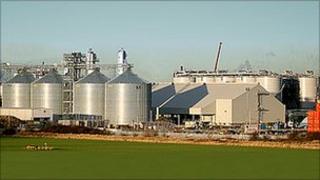 A Teesside chemical plant is to restart production, more than a year after being mothballed.
The Ensus bioethanol refinery in Wilton shut down in May last year, blaming dwindling demand and competition from the US.
The company, which employs 100 people, all of whom have been on full pay, said international conditions were now right to reopen the plant.
A spokesman said it was hoped production would restart by September.
The £300m facility, which was opened in 2009, converts wheat into fuel grade alcohol, animal feed and carbon dioxide for the food and drinks industry.
Peter Sopp, chief executive officer of Ensus, said: "Everyone is absolutely delighted that things are moving in the right direction once again and we are in a position to restart.
"It has been a very difficult time for everyone connected with the business and I would like to thank all our customers and suppliers for their patience and understanding and also to pay particular tribute to our workforce who have shown resilience, a magnificent attitude and are a credit to this area."
Leader of Redcar & Cleveland Borough Council, George Dunning, added: "I am absolutely delighted that Ensus is ready to restart its plant at Wilton.
"The council has assisted the company over its very difficult initial faltering early production period. However, all the environmental kit is in place and Ensus is ready to produce."