World Parmo contest in Stockton won by Mike's Return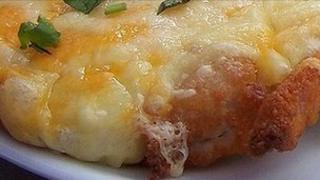 The resurrected World Parmo Competition has been won by Mike's Return takeaway from Middlesbrough.
The cooking competition was last contested in 2008 when it was won by Borge Ristorante in Stockton-on-Tees.
They were placed second in this year's event, with Mohujo's Mexican Restaurant in Billingham coming third.
Popular across Teesside, the parmo is a chicken or pork dish, coated with breadcrumbs, deep fried, covered in bechamel sauce and cheese and grilled.
It is thought it was first served in 1958 by army chef Nicos Harris in Middlesbrough.
'Wrestled back'
Stockton Borough Council's events manager Graham Reeves said the competition had been very close with only one point between first and second place.
He said the title had been "wrestled back" by Mike's Return who, in turn, had lost the title to Borge in October 2008.
The owner of the takeaway Mike Featherstone died earlier this year.
The contest was judged by Mayor of Stockton Lynne Apedaile, BBC Masterchef judge Eugene McCoy and BBC Tees presenter Alistair Brownlee.
Sean Wilson, who played Martin Platt in Coronation Street, was the council's celebrity entrant and came a "highly commended" fourth.