Horden shooting victims' brother to run Great North Run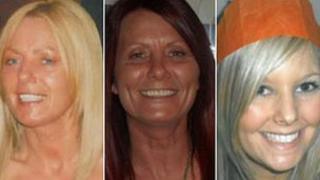 A Durham man who lost three members of his family in a shooting will take part in the Great North Run to promote a campaign for tougher gun control laws.
Bob Hardman's sisters Alison Turnbull and Susan McGoldrick were killed by Michael Atherton in Horden on 1 January.
Atherton, Ms McGoldrick's partner, also killed Mr Hardman's niece Tanya Turnbull before shooting himself.
Mr Hardman said he wanted to run "to put some good back" into his life.
Speaking to the BBC for the first time since the shooting, he said the online petition had about 10,000 signatures but needed 100,000 for the government "to start listening".
The petition calls for different police forces to work together more closely when granting firearms licences.
'Happened again'
It also says there should be closer co-operation between the police and health authorities to prevent people with a history of mental illness accessing guns.
"I would hate to think we didn't do anything and this happened again," said Mr Hardman.
"It's just like there's a big chunk of your life missing. You're helpless. There's nothing you can do. It's just awful.
"You just try to put some good back in life so that's why I do things like the Great North Run."
Mr Hardman, from Blackhall, said he was also running the half marathon to raise money for Hartlepool Hospice, hoping to raise about £10,000.