Show Us Your Art festival exposes Middlesbrough to art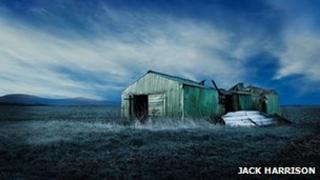 There is a north-eastern phrase "shy bairns get nowt".
It roughly translates as "if you don't ask, you don't get" and the organisers of a free art festival in Middlesbrough believe they have proved the truth of it.
Show Us Your Art has no funding, no sponsorship and no budget.
But what it does have is hundreds of paintings, photographs and sculptures exhibited in venues across the town.
"We asked local artists to send in their work," said curator Emily Petyt. "There are no prizes, no money, but we still got nearly 300 entries in three weeks.
"We put out a shout for volunteers and said meet us in a cafe - they filled the place."
Virtual gallery
As well as works by relatively unknown artists living in the area the festival, which starts on Friday, will be showing pieces on loan Middlesbrough Institute of Modern Art (Mima).
The gallery was conscious it owned more than it could display and leapt at the chance to give more of its collection an airing.
Show Us Your Art will be using shops and pop-up galleries as temporary exhibition spaces.
But the festival's organisers had two problems.
Fiona Wylie, from WorldSight Media who solved them, said: "It soon became clear that there was far more great work coming in than we could possibly display.
"At the same time, a lot of shops wanted to be involved, but simply didn't have somewhere you could put a valuable artwork.
"That's why we came up with the virtual gallery."
Posters with quick response (QR) codes will be put up around the town.
People can use a smartphone or tablet to scan the code - a black and white pixellated square - to get one of the 32 pictures.
'No brainer'
Mima itself will be showing work by some artists in the area who have never exhibited before.
"It was a bit of a no brainer to be honest," said senior curator James Beighton.
"When a group of people come to us and say, 'We want to provide exposure to a greater number of artists', of course you're going to want to support that.
"The fact that some have produced truly worthy work and are now exhibiting in Mima itself - it couldn't be better."
One of those is 74-year-old Tudor Powell, who only started painting in his 50s.
At the other end of the age range is 21-year-old Roberto Picciau, a recent fine art graduate from Teesside University.
"People think of art and they don't think of Middlesbrough," said Mr Picciau.
"I'm really looking forward to seeing work by all the people who've been at it for a while around here and whose work you don't really get to see normally."