Man injured in garage 'explosion' in Darlington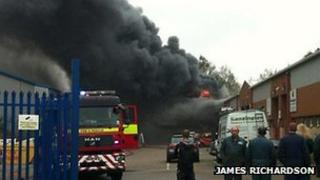 A man has been airlifted to hospital after a large fire broke out at an industrial estate in Darlington.
The blaze ripped through a garage on the Cleveland Industrial Estate in Forge Way. A 250m cordon is in place after reports of an explosion.
County Durham and Darlington Fire Brigade said the fire broke out at the single-storey building which is used as a gas conversion centre for cars.
The injured man suffered burns. Train services have also been disrupted.
James Richardson, who works at nearby printing firm Addo, has been asked to leave his work building twice along with six colleagues because of the risk of explosion.
He said: "It was pretty dramatic - there have been several explosions.
"We were evacuated for about an hour when it first broke out then allowed back in. But we've just been asked to leave again."
Gas cylinders
The 63-year-old casualty is in a serious condition in the hospital's burns unit, an air ambulance spokesman said.
Durham and Darlington Fire and Rescue Service said the premises in Forge Way are used to convert cars to use liquid petroleum gas, and a tank may have exploded.
Businesses up to 200m from the blaze were evacuated, and trains using the busy line between Northallerton and Newcastle - which include services linking London and Edinburgh - were stopped as a precaution due to the proximity of the tracks.
Propane and oxyacetylene cylinders were believed to have been involved in the explosion, the fire service said.
"Police, fire, ambulance and Darlington Borough Council are working together to minimise the disruption to the community and ensure everyone is safe," the spokeswoman said.