Jack Hatfield memorial stone to be unveiled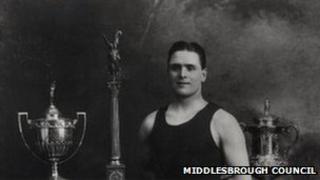 A memorial stone will be unveiled in Middlesbrough on Thursday in tribute to one of Teesside's all-time Olympic heroes.
A century on from Jack Hatfield's silver and bronze success at the Stockholm games in 1912, the swimmer is being honoured for his sporting glory.
His name has remained famous to generations of young sportsmen and women thanks to the career he pursued outside of the pool.
When Mr Hatfield returned home with his medals, he opened a sports shop in a converted house in Newton Street with stock worth around £60.
The business was taken on by his sons Jack, Peter, Richard and Tommy and still trades at premises on Borough Road.
Shop milestone
Mr Hatfield learned to swim in the old baths at Gilkes Street in Middlesbrough, where his father worked and allowed him to practice when it was empty.
He went on to win 42 English Championships alongside his two silvers and a bronze in Stockholm. His success came in the 400m and 1500m freestyle and the 4x200m freestyle relay.
The business he started is also celebrating its centenary this year.
Paul Barry, who has worked in the shop since 1969 and took over the business in 1999, retained the famous name.
He said: "Jack Junior said he would love the shop to reach 100 years in business which is why I kept the name.
"I'm delighted that we've reached that milestone this year, and that there is now a permanent tribute to Jack Senior in the town centre."
Mr Hatfield's son Peter, 75 and himself still a keen swimmer, said: "My father was one of the biggest sportsmen of his day, and known all over the world, but Middlesbrough was where he wanted to have his sports shop.
"We are all big believers in sport, so it's been a fantastic business to be involved in, supplying sports equipment to everyone from local kids to the North Koreans during the 1966 World Cup.
"They wanted to take a large number of footballs back to Korea, so a delegation arrived at the shop in suits, with a suitcase full of cash."
North Korea enjoyed a famous win during the last football World Cup to be played in England when they beat Italy at Ayresome Park in Middlesbrough.
Stone unveiling
Mr Hatfield's commemorative stone has been laid in Middlesbrough's Centre Square on behalf of Jack's family.
Peter added: "It's a great tribute to my father, and so fitting after the Olympics and Paralympics."
The stone will be unveiled by Middlesbrough mayor Ray Mallon and Peter Hatfield.
Mr Mallon said: "Jack Hatfield left an important legacy for this town, and it is only right that he should be remembered for his achievements and his contribution to Middlesbrough as a whole."