Sex offender Gary Dover Afflick jailed for breaching name order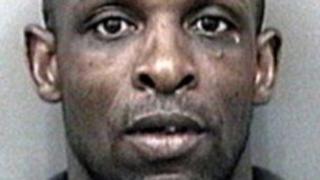 A convicted sex offender has been jailed after giving a false name to police on Teesside.
Gary Dover Afflick was charged with breaching an order which made him notify the police of any alias.
The 46-year-old, who was on the sex offenders register, tried to pass himself off as Gary Johnson to officers who stopped him on a street in Stockton in June.
The judge at Teesside Crown Court jailed him for 12 months.
The court heard he had 25 previous convictions for 148 offences.
Satanism lectures
These included blackmail, supplying drugs and indecent assault on boys aged between nine and 14.
He offered vulnerable youngsters shelter in squats, then offered drugs and lectured them about satanism.
Paul Abrahams, defending, said Dover Afflick was with two adult friends when he was stopped by the officer and he gave a false name because he did not want them to know about his past.
It was "not a full attempt to escape notifying the police", as he did give his real address and correct date of birth, he said.
However, Judge Peter Bowers said he had no option but to jail him.