Final piece of Redcar sea wall slotted into place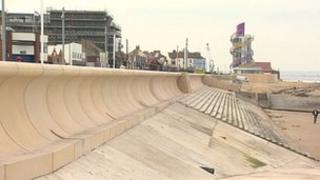 The final piece of a £30m sea wall to protect a Teesside coastal town from flooding has been slotted into place.
Made of 1,555 pre-cast concrete blocks, each weighing up to 28 tonnes, the 1.6 mile (2.7km) wall at Redcar aims to reduce the risk of flooding to 1,000 properties.
The project is expected to be completed in Spring 2013.
The Environment Agency contributed £25.5m to the scheme, with £4.6m coming from Redcar and Cleveland Council.
The specially designed blocks that make up the wall include curved upper sections that reduce the power of waves and help stop sea water breaking over the top and flooding the town.
Donna Robinson, of the Environment Agency, said: "When the Redcar scheme is complete it will reduce the risk of flooding to 978 homes and 209 businesses.
"We estimate that the sea will rise by around 85cm over the next 100 years, and without the wall a further 184 homes and 98 commercial properties would be at risk, along with key roads and underground utility services."
The wall stretches from Coatham to the eastern end of the Stray.