Man cleared of Peterlee police station 'torture'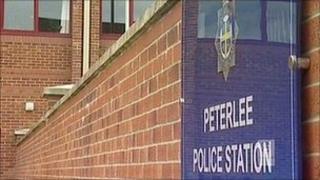 A civilian detention officer has been cleared on appeal of assaulting a prisoner at a police station.
Michael Mount, 61, from Thornley, was cleared at Teesside Crown Court of assaulting David Healer at Peterlee Police Station in March last year.
The conviction of custody sergeant Stephen Harvey, 50, from Chester-le-Street, was upheld.
Mr Healer, who attended the hearing, is suing Durham Police.
Harvey twisted Mr Healer's arm when he would not answer questions while he was being booked in following his arrest for breach of bail and assaulting a police officer, the court heard.
After conviction, the Independent Police Complaints Commission described what happened as a form of torture.
The sergeant had claimed he was using reasonable force.
Mr Mount was expected to assist the custody sergeant and follow his lead. He twice held Mr Healer by the wrist or arm.
Judge Tony Briggs said he was not satisfied that Mr Mount "acted unlawfully".
Harvey was ordered to pay £600 appeal costs. His original fine of £400, with £50 compensation to the victim still stands.