Middlesbrough Disabled Supporters' Association's ticket joy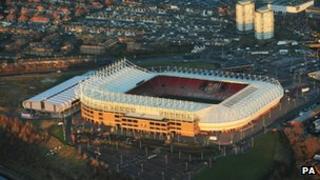 Disabled football fans have won their fight for more tickets to see Tuesday's match between Sunderland and Middlesbrough.
Middlesbrough Disabled Supporters' Association (MDSA) had expressed its disappointment after originally receiving only five wheelchair spaces.
But Sunderland officials have now made more tickets available.
MDSA chairman Paddy Cronesberry said he was relieved more fans could now attend.
He said: "We have received four more disabled tickets for the game.
"I would like to thank Level Playing Field, the Middlesbrough ticket office and the Football League for their support."
Reduced allocation
Mr Cronesberry had expected to receive up to 20 tickets for the Capital One Cup tie at the Stadium of Light and described the initial offer of five as a "bombshell".
Middlesbrough's main ticket allocation for the game was limited to 2,800 despite competition rules that entitle the club to 15% of the Stadium of Light's 49,000 capacity.
The decision was made after Sunderland Council's safety advisory group cited evidence of "previous bad behaviour" by fans.
Northumbria Police is advising visiting fans to be aware the away section is now at the opposite side of the Stadium of Light.
'Safe path'
There will be a "planned hold back" after the game when Middlesbrough fans will be asked to wait inside the stadium.
A spokesman said: "This is to allow police to ensure there is a safe path back to the coaches and Metro trains for fans.
"After the match officers will be using the barrier system used at previous Sunderland v Middlesbrough matches to safely escort the away fans back to coaches and trains."
Similar arrangements were in place for last weekend's fixture between Sunderland and Newcastle.
Police praised the majority of fans' behaviour at that match where 20 arrests were made.