Fire breaks out at Tofts Farm Industrial Estate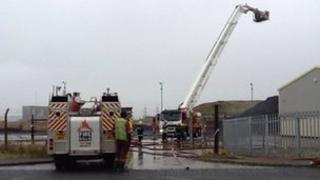 Two buildings had to be evacuated when a fire broke out at an industrial estate in Hartlepool.
Crews were called to Tofts Farm Industrial Estate at 11:20 GMT after reports of a large plume of smoke.
Cleveland Fire Brigade said early reports were of a fire involving 700 tonnes of coal, but it turned out it was tyre chippings that were alight.
The fire has been brought under control and those people who were evacuated have been able to return.
Firefighters have begun dampening down at the scene and work to investigate the cause of the fire has begun.