Barry Coppinger says Ed Chicken appointed to 'avoid risk'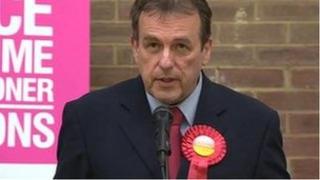 Cleveland's police and crime commissioner (PCC) says he appointed a former colleague as his chief executive to avoid "risk".
Barry Coppinger hired Middlesbrough Council's head of community protection Ed Chicken in his first week in post.
Outgoing police authority chairman Stuart Drummond described the move as "ill-advised".
But in a report to the police and crime panel, the PCC said the change would help him to "hit the ground running".
In his former role as Middlesbrough's cabinet member for community safety, Mr Coppinger, a Labour councillor, worked closely with Mr Chicken.
In the report, the PCC makes clear he worked with the council official "for over 10 years".
Mr Coppinger is required to explain the reason for the appointment which led to the police authority's chief executive Stuart Pudney's being replaced.
Mr Pudney's £90,000-a-year contract was not due to expire until March.
"I do not wish to be critical of the former post holder but the post I have filled is different, its scope is far broader," Mr Coppinger says.
"It could be argued that the former post holder could develop and adapt - but time is pressing and there was too much risk associated with that approach."
The new panel, made up of political and independent members including Hartlepool mayor Mr Drummond, meets for the first time on Friday.
Mr Pudney will be paid the remainder of his salary but Mr Coppinger said he expected to identify savings to meet the cost.
The new chief executive will be paid the same salary on a secondment basis from Middlesbrough Council.
'My value set'
"There is a cost which arises from my decision to pay the previous post holder to the end of his contract," the PCC says.
"Though this could have been the subject of negotiation, especially as my action was taken within the first year of employment, I believed my action was right and within the value set that I wish to promote in the office of the PCC."
Mr Coppinger says his actions were "very common" with the approach taken by other politicians entering office at a senior level.
The PCC will also explain his decision not to appoint a deputy at Friday's meeting.