Hemlington library closure would be 'tragic'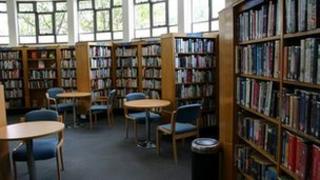 Two Teesside authors have declared their support to save a library in Middlesbrough from closure.
Richard Milward has said closing Hemlington Library would be "tragic" while Peter Brunton said it was "important" it stayed open.
The library has been earmarked for closure as part of Middlesbrough Council's plan to save £11m.
Elected mayor Ray Mallon said closing the library would save £64,000 but proposals were "not set in stone".
Mr Milward, the Ten Storey Love Song author who was born in Middlesbrough, said: "Losing Hemlington Library would be tragic.
"It's so important for the area, providing one of the cheapest forms of entertainment and escapism, it's a portal to knowledge for the young, old and low on cash, and a meeting point for the community."
Mr Brunton, who wrote children's book Sally the Oil Rig Seal, said the library that serves South Middlesbrough helps to "develop our children's imagination so we can look forward to a generation of artists, actors and writers".
Tom Blenkinsop, Labour MP for Middlesbrough South and East Cleveland said: "To lose Hemlington library would be disastrous, it is a community hub. It is well-used by local people and local schools and the support for it is clear from the amount of people who signed the petition."