Hartlepool allotment fence theft 'disappoints' council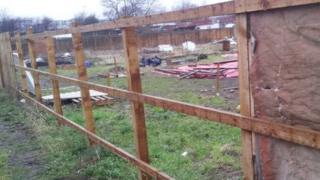 Thieves who stole wooden fencing from land near allotments in Hartlepool are "undermining" efforts to improve the area, the council has said.
It follows the discovery on Thursday that a 50ft (15.2m) stretch of fencing had been removed from Brierton Lane.
It had been put up to help turn an abandoned area of land, a target for fly-tippers, into use as allotments.
Hartlepool Council said it would cost about £1,300 to replace and has appealed for information.
A spokeswoman said: "We cannot constantly replace these fences.
"It is incredibly disappointing that our efforts to improve the allotments with the small budget that we have is being undermined.
"There is a chance that the allotments will begin to deteriorate again and families will not have the opportunities to grow their own fresh fruit and vegetables, which is increasingly important in these challenging times."