Chris Cave's brother gets award for anti-knife campaign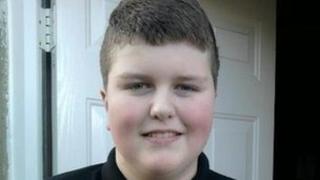 The younger brother of a teenager who was stabbed to death has won an award for his work campaigning against knife and gun crime.
Tom Cave was just three when his brother Chris, 17, was killed in Redcar in 2003.
He has now been recognised for his volunteering efforts with the Point 7 programme.
Tom, 12, said he wanted to "stop more people from carrying knives and prevent more deaths".
The Redcar Community College student fundraises and helps with campaign material for the sessions which have taken place in schools around the country.
He has been named the North East winner in the best young volunteer category of the vInspired awards.
'Over the moon'
Tom said: "I was quite happy when I found out.
"I get loads of letters from kids saying they have put BB guns down and stopped going to fights or playing with knives."
Chris was stabbed four times in June 2003 by 20-year-old Sean Anthony Matson, who was sentenced to a minimum of 12 years in prison after pleading guilty to murder.
Tom's mother Theresa said her son had played a "major part" in the success of the Point 7 project.
"He wrote a message when he was nine asking young people to put down their knives and last year he wrote a story through his own eyes talking to Chris as he died," she said.
"Tom just gets on with every day as it comes; he's over the moon with the award."