Future Archbishop of Canterbury edits Northern Echo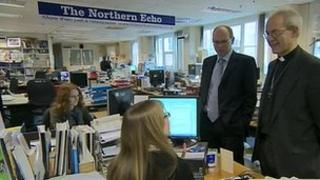 The next Archbishop of Canterbury has guest edited his local paper - and highlighted the plight of young unemployed people.
The Bishop of Durham, Right Rev Justin Welby, took charge of Saturday's Northern Echo, giving the front page over to a scheme helping the jobless.
Bishop Welby said he wanted to focus on the success of a Darlington project which has created 100 apprenticeships.
He will become the Archbishop of Canterbury next month.
The bishop has been a regular columnist for the Darlington-based newspaper, whose past editors have included Sir Harry Evans and WT Stead, who perished on the Titanic.
'Fantastic scheme'
He said he wanted to highlight the success of the Darlington Foundation For Jobs, of which he is the patron.
Bishop Welby said: "This is a really important scheme and the success it has achieved breaking all of its targets is a testament to the passion of the people of the North East.
"Getting young people into work and equipping them with the skills needed to grow the local economy is the way that communities and economies can move from strength to strength.
"I would really like to see this fantastic scheme replicated widely - to allow other communities across the country to benefit."
In his leader column for the paper, he wrote: "I will miss this area terribly, am grateful to it, and will go on pushing for it. Thank you for all you have given me."