Hartlepool's Ward Jackson Park lodge remarketed after low bids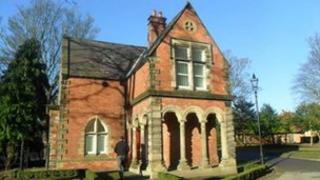 A 19th Century lodge in Hartlepool put up for sale to ease financial pressures on a council will be remarketed after it failed to attract a high enough bid.
The building in Ward Jackson Park has been empty for some time and Hartlepool Council said it needed to cut costs and maximise returns.
The council, which faces cuts of about £20m over the next four years, said interest was limited.
It will be remarketed if it can obtain planning consent for the site.
The council said it had received feedback that a lack of certainty over planning consent might have affected the level of interest.
As a result it plans to submit an application for change of use to include residential.
The two-storey Grade II listed property was built when the park opened in 1883.