Durham Tees Valley airshow plan under threat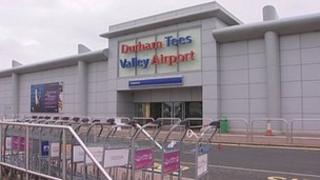 A funding shortfall looks likely to end plans to hold the first airshow at Durham Tees Valley Airport in more than 20 years.
Supporters of the airport have raised £35,000 towards the event but need a further £30,000 investment.
Colin Granton, chair of the Friends of Durham Tees Valley Airport group, said potential funding had not materialised and the airshow was now in doubt.
"We're making a last ditch attempt," he said.
Mr Granton said a final call would be made in coming days because the Civil Aviation Authority and local councils needed to be made aware of the decision.