Geoff Waterfield sculpture unveiled at steelworks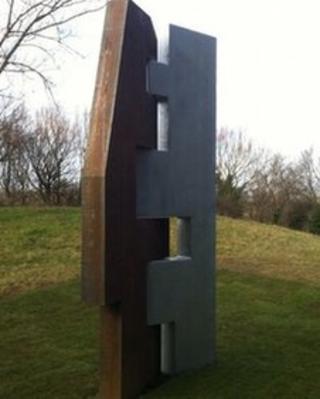 A memorial to the union official who led a successful fight to bring steelmaking back to Teesside has been unveiled in front of his family.
Geoff Waterfield fronted the "Save Our Steel" campaign but died, aged 43, before the Redcar blast furnace was relit.
Thai firm SSI, which bought the plant after it was mothballed, commissioned the sculpture in his honour.
Mr Waterfield's partner Sheryl said he would have been "absolutely thrilled".
'Colossus'
The sculpture was made using the last slab of steel produced at the plant before it closed and the first to roll off after the furnace was relit by Mr Waterfield's son Wills last year.
An inscription on the sculpture's plaque reads: "In memory of Geoff Waterfield, who contributed so much to the recommencement of iron and steelmaking on Teesside. An inspiration to us all."
Former Redcar MP Vera Baird said Mr Waterfield was a "colossus".
"He was the strength that we all needed to keep fighting," she said.
"He was absolutely determined that this steelworks would not remained closed."