Detective Stewart Swinson killed himself, coroner rules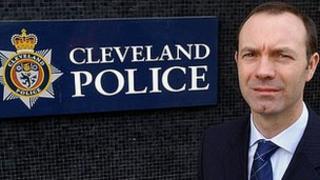 A senior detective with a history of depression jumped to his death from a railway viaduct, a coroner has ruled.
Det Ch Supt Stewart Swinson, 47, was six months away from retiring as Cleveland Police's head of crime when he died in Yarm, Teesside, last March.
The father-of-two found his job stressful but was not under suspicion as part of the corruption investigation into the force, an inquest heard.
Coroner Michael Sheffield found that Mr Swinson killed himself.
Mr Swinson, a triathlete, suffered recurring bouts of depression and had previously tried to kill himself in 1993, Teesside Coroner's Court heard.
'Remarkable gentleman'
The inquest was told how Mr Swinson had spoken to a mental health nurse the day before he died
His widow Susan's statement, which was read out in court, said being made head of crime was the "proudest moment of his career".
"It was a bit more stressful due to the issues going on," it said.
"He was coping but looking forward to retiring."
Mr Sheffield said: "The evidence shows Stewart Swinson was a remarkable gentleman.
"He suffered badly from depression, certainly as far back as 1993."