Lee Clark jailed for killing baby son Charlee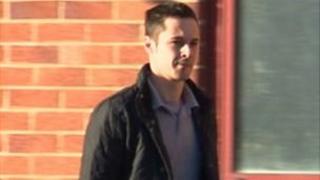 A father has been jailed for nine years for the manslaughter of his five-month-old son.
Lee Clark, 28, of Neville Close, Gainford, near Darlington, had denied killing Charlee Clark in February 2011.
Charlee was taken to Darlington Memorial Hospital with head injuries, prompting staff to contact police.
In at statement at Newcastle Crown Court, Charlee's mother Natalie Holmes said "words cannot describe the devastation I feel".
"It's now almost two years since Charlee's death and I cannot say how much we as a family miss him and just how difficult it has been trying to come to terms with our tragic loss," she said.
"Charlee was such a happy, relaxed gorgeous baby boy who was always smiling and we continue to think of him and miss him every day."
Det Supt Adrian Green of Durham Police said the two-year investigation had been "complex".
"I hope the verdict has provided the answers the family sought and takes them some way further towards coping with the loss of Charlee," he said.