Criticism over £240,000 sale of Windlestone Hall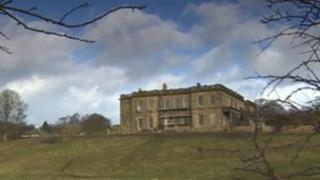 A council has been criticised for selling off a country estate for less than the price of a three-bedroom semi detached home despite a higher bid.
Windlestone Hall, near Rushyford - set in 25 acres - was the home of former Prime Minister Sir Anthony Eden.
In 2006 Newroc Whitelam Homes bid more than £1.5m to develop the site.
But Durham County Council has accepted an offer of £241,000 for the estate. Auditors said it may not have been the "best consideration".
'Absolutely horrified'
The county council put the estate on the market in 2010 and it has been sold to an unknown buyer as a private residence.
Karen Stephenson, spokeswoman for Newroc Whitelam Homes, said: "We were horrified, absolutely horrified.
"The fact that they could allow it to go for £240,000 when we were talking about £1.5m to purchase the site then potentially doubling that to £3m after development - it's absolute nonsense."
But Durham County Council spokesman, Ian Thompson, said negotiations were dragging on and the sale "made sense" in the "current climate".
He said: "As the process went on the property market changed and we entered a recession.
"It was quite clear that the developer was unable to make a profit from the scheme and having gone through that process we then received a private offer from somebody wishing to obtain the property for a private residence and we accepted that offer."
The audit report, commissioned by the council after complaints, said there was a "lack of transparency and accountability" during the selling process.
It also concluded that discussions with the final purchaser were " very informal" and it could not be sure the final sale was "a good deal".
Inside Out in the North East will be reporting on the row at 19:30 GMT on Monday on BBC 1.