Bernice Zair: Police probe hospital care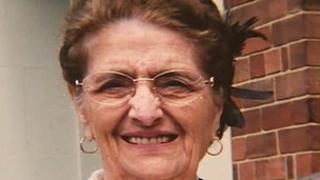 Police are investigating the treatment of an 89-year-old County Durham woman, who her family say was left on a mattress on a hospital floor.
Bernice Zair, from Bishop Auckland, was admitted to Darlington's Memorial Hospital late last year with an infection and died five weeks later.
Her son Sam said his family were "disgusted" when they visited Mrs Zair, finding her on a mattress on the floor.
County Durham and Darlington NHS Trust said it was cooperating with police.
Cafe owner Mr Zair said: "She was a hard working person and liked to please everyone.
"When we visited her in hospital we walked in to the ward and found her in a side room on a mattress on the floor on her own. We couldn't believe what we were seeing."
'Absolutely distraught'
Mr Zair's wife Lesley added: "I wouldn't treat a dog like that. She had nothing, not even a pillow.
"This was an 89-year-old lady, who had just been put on a mattress on the floor. It was horrific."
The family say they were aware of staff shortages and were concerned about the use of agency staff, who they claim told them they were being used at three different County Durham hospitals
Mrs Zair died last month after contracting pneumonia.
Mr Zair claimed the recent transfer of acute services from Bishop Auckland to Darlington and Durham had an impact on his mother's care.
He added: "If these services had still been in place at Bishop Auckland, in my view, my mother would have been treated a lot quicker and would possibly still be alive today.
"As a family we are absolutely distraught and disgusted at the way my mother was treated."
In a statement County Durham and Darlington NHS Trust said: "We offer our condolences to Mr Zair for his recent loss.
"We have received his complaint, which is being investigated with the involvement of the police, in line with local safeguarding adults' guidance.
"We have made Mr Zair aware that we cannot complete our investigation and respond to the issues he has raised until the police investigation is complete.
"It would be inappropriate to comment further on an on-going investigation."