Middlesbrough remembers D-Day VC hero Stan Hollis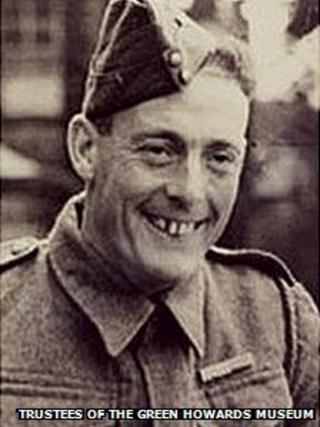 He was the only man to win the Victoria Cross on D-Day 1944 - but most of his home town have never heard of him.
Stan Hollis is recognised as a hero of the Normandy Landings, yet no memorial exists in his Middlesbrough birthplace.
But when the bar of the town's Legion Club was dedicated to his memory on Saturday, that all changed.
The late Sgt Major's actions in single-handedly storming German gun positions and taking 26 prisoners, made him "a legend" in the Green Howards regiment.
His heroism and bravery during Operation Overlord is marked with pride at the former regiment's museum in Richmond, North Yorkshire.
But despite campaigning by his family, friends and former colleagues, until now, his achievement has gone largely unrecognised in Middlesbrough.
Bronze statue
At the age of 31, Sgt Maj Hollis was with the Green Howards, who were one of the assault battalions at Gold Beach.
As the company moved inland, he captured several gun positions, rescued two colleagues and in the process took more than two dozen prisoners.
As a result, he was the only one of almost 62,000 British troops to be awarded the Victoria Cross on the day of the landings.
The renaming of the Legion bar, and a planned permanent memorial, including a life-size bronze statue in the town centre, is something his son, Brian, 79, has welcomed as a "fitting tribute".
"My father would be very honoured to have a bar at the Legion named after him, considering he ran a pub after he left the army," said Mr Hollis
"He was a very proud man and didn't like to talk too much about what he did. But we all know how brave he was and what an achievement it was for him to win the VC on D-Day.
"I have made sure my two sons know what he did on that day and what kind of soldier he was."
Stephen Mortiboy, vice chairman of Middlesbrough's Legion Club, added: "Most people don't even know that we have a VC hero from the town who acted so courageously on D-Day.
Young people
"He deserves a permanent memorial in the town, but we want to do our bit and recognise what a hero Stan Hollis was."
Brian Bage is chairman of a group of campaigners hoping to raise £100,000 for a permanent memorial to Stan Hollis to stand near the town's cenotaph.
He said: "This man is a legend in the Green Howards and we have nothing to show people in Middlesbrough who he was.
"We have heroes like James Cook, but it would be good to show the young people of our town who Stan Hollis was and what hero he was."
Three months after D-Day, Sgt Maj Hollis was wounded in the leg and returned to England, where he was decorated by King George VI at Buckingham Palace.
He also served in North Africa and was at Dunkirk.
He died in February 1972 and is buried in Acklam Cemetery in Middlesbrough.
His medal is on display at the Green Howards Museum,