Middlesbrough's Western Gateway will 'bring people in'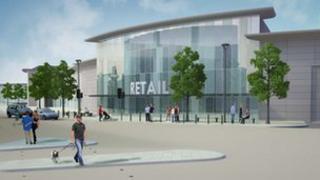 A £120m shopping development will transform Middlesbrough, a council regeneration boss has said.
The Western Gateway project, in the town's Cannon Park area, includes a new supermarket, shopping units and improved transport links.
But some traders and the North East Chamber of Commerce (NECC) have said there is not enough demand for a development of this size.
Councillor Charlie Rooney said it would "bring people into the town".
The executive member for regeneration and economic development said: "It will be complementary to the town centre.
'Disgusted' by plans
"We want people to come in to Middlesbrough to shop and hopefully to work here and to stay here."
The NECC has supported some of the scheme but said it was concerned plans for a large shopping development would badly affect the town centre.
It pointed out the proposals were drawn up in 2007, before the recession and the rise of internet shopping.
More than a dozen firms on Cannon Park, which is about half a mile (800m) from the town centre, face disruption or relocation.
Graham Ward, whose Hire Station tool hire business has been there for 10 years, said he was "disgusted" by the plans.
"As a council tax payer who lives in Middlesbrough I just couldn't believe the way that they were treating businesses who pay good money and good rates to the local council and employ people within Middlesbrough."
Middlesbrough Council said it would be submitting revised plans but was confident the Western Gateway would be a success.