'Postcards' returned Redcar seafront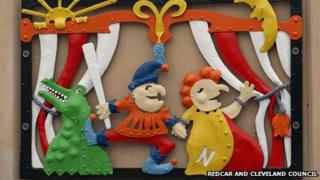 Wrought-iron "postcards" depicting scenes of seaside life have been returned to a Teesside promenade.
The 23 panels, which had been in place since 1995, were removed last year as part of the £30m revamp of Redcar seafront.
Following an extensive refurbishment programme by the local blacksmith firm which originally created them, they have been put back in place.
Work on the seafront is due to be completed by April.
It will include new leisure spaces, "fun zones" with water play areas and fairground rides.
Councillor Olwyn Peters, cabinet member for culture, leisure and tourism, said: "The postcards have become a much loved part of the promenade in Redcar and we are delighted to have them back in place fully restored."
Chris Topp, whose company won the competition to create the panels and also carried out their refurbishment, said: "It was a pleasure after all these years to be asked to renew our association with them."