Barry Coppinger reviewing Cleveland Police HQ decision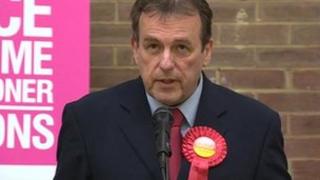 A decision about whether to build a new headquarters for Cleveland Police is being reviewed by the area's police and crime commissioner.
Barry Coppinger insisted plans for a potential move were drawn up in a "very different financial climate".
The force's base at Ladgate Lane, Middlesbrough, was described as "not fit for purpose" and the land was marketed to housing developers.
A multimillion-pound move to Hemlington Grange had been considered.
The former police authority delayed making the decision before its responsibilities were passed to Mr Coppinger's office in November.
Homes approved
Mr Coppinger said officers were carrying out a "detailed review of the costs and options" to allow the force to meet the demands of "modern-day policing".
In December 2011, Middlesbrough Council's planning committee agreed it was "minded to approve" an application to demolish the Ladgate Lane site and build 375 homes.