John Coates murder trial: Robert Baker tells of 'shock'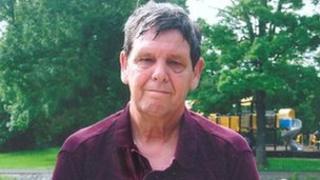 A man accused of beating his neighbour to death before dumping him naked into a bath has denied playing any part in the killing.
Robert Baker, 24, denies murdering John Coates, 61, at Fleet House, Middlesbrough, last September.
Giving evidence at Teesside Crown Court, Mr Baker said he had "no idea" how his thumbprint was found in wet blood inside Mr Coates' living room.
He told the jury he was "shocked" when he learned of the death.
XBox and tablet
The defendant lived six floors below Mr Coates at the time he was killed.
Mr Coates' family originally thought his death had been an accident before a post-mortem examination revealed serious head injuries.
Mr Baker said he bought a tablet computer the prosecution says belonged to Mr Coates from a "dealer" and an XBox from a market trader.
Prosecutor Nicholas Lumley QC put it to Mr Baker that he had hit Mr Coates several times before removing his clothes, dragging him into the bathroom and trying to "hide any trace" of what he had done.
Mr Baker repeatedly denied involvement but admitted lying in police interviews and having been "caught out" by CCTV.
Mr Lumley said images shown to the jury showed Mr Baker removing "bags and bags" of evidence from the flats but the defendant said he was handling stolen goods for a "dealer".
Other images showed Mr Baker making regular trips to the tower block's laundry room.
"I don't suppose you were washing bloodstained clothing, were you?" Mr Lumley asked Mr Baker.
"No," he replied.
The trial continues.