Hartlepool sea defence work uncovers history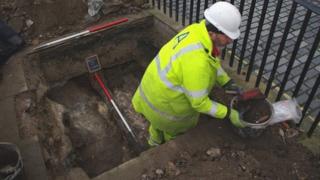 Work to strengthen Hartlepool's sea defences has also uncovered glimpses of its history.
During the £1.3m Environment Agency project to cut flooding, archaeological excavations were carried out along the top of the Headland Town Wall.
Recovered artefacts included pottery and a button from an 18th Century voluntary local defence force.
The structure was built in the early 14th Century as a protection against attack from Scotland.
Until the 19th Century, it extended from the coastline to the north of the Headland southwards across the peninsula and the harbour, before turning eastwards to finish at the limestone cliffs.
'Invasion threat'
The excavations showed evidence of continual alteration and maintenance since it was built.
Robin Daniels, of Tees Archaeology, said: "A particularly interesting find was a copper-gilded brass button which we uncovered on a section of the wall which had seen intensive rebuilding.
"It would have adorned the uniform of a member of the Hartlepool Volunteer Artillery and dates from between 1797 and about 1812.
"This was a period when there was the threat of invasion from Napoleon's forces and there was much re-fortification of Britain's coastal towns."
After the French Revolution in 1789, Lord Lieutenants in England and Wales were authorised to raise volunteer forces for local defence, particularly in coastal towns.
These forces were among the largest voluntary movements in Britain until 1804, when they were formally organised into militia.