Hartlepool businesses offered cash to fill empty shops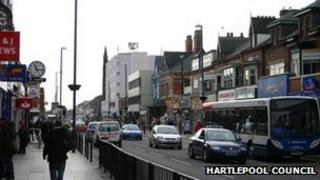 New businesses in Hartlepool are being offered money by the council to help revive the town's empty shops.
Hartlepool Council has set aside £25,000 to help eligible new businesses cover rent, rates and other costs.
The council said up to £3,000 of funding would be on offer to the businesses which achieved the "greatest impact".
The money is part of the government's High Street Innovation Fund which was set up following the Portas Review.
The review by Mary Portas last year led to a £10m government fund being set up to help bring empty shops across England back into use.
However, there has been some criticism surrounding the fund after a Freedom of Information request suggested that only 7% of the money had actually been spent.
The government said it preferred the money was spent "strategically and wisely" rather than quickly spent and wasted.
The Hartlepool money will be targeted at vacant premises in Church Square, Church Street, York Road between Lowthian Road and Lister Street, and Middleton Grange Shopping Centre.