Threat to 200 jobs at RFMD factory in Newton Aycliffe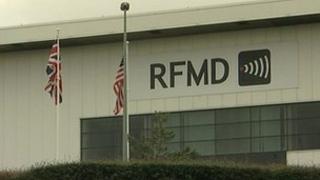 Up to 200 jobs are at risk after a US-based electronics firm announced plans to end production at its main UK facility in County Durham.
RF Micro Devices (RFMD) has made semi-conductors for mobile phones at a factory in Newton Aycliffe since 2008.
But the North Carolina-based firm said it planned to switch production back to the US to save $20m (£13m) a year.
The company's decision was described by Business Durham as "very disappointing".
'Highly skilled'
RFMD, which operates from the former Filtronic microchip plant at Heighington Lane Business Park, said it hoped to find a buyer for the plant in the next 12 months.
In a statement, the firm said it planned to use a lower-cost production process at its Greensborough headquarters.
Stewart Watkins, managing director of Business Durham, which works with Durham County Council on attracting investment into the area, said: "Obviously this is very disappointing news for Newton Aycliffe.
"The company is actively seeking a buyer and the council will be offering the services of Business Durham to assist RFMD in attracting an investor to the site.
"RFMD is a flagship facility for the county and its highly skilled workforce will be an asset to its successor."