North Tees NHS staff sick pay dispute settled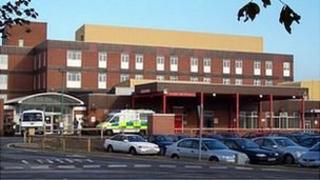 A dispute between health bosses and staff at two Teesside hospitals over new employment terms has been resolved.
North Tees and Hartlepool Foundation Trust wanted to reduce enhanced sick pay to staff working unsociable hours.
It had issued its 5,452 staff with HRI forms, meaning that if they did not agree to the new terms and conditions, they could be dismissed and then offered re-employment on those terms.
However, these were withdrawn after agreement was reached with unions.
The trust said sickness cost the trust about £5m a year and it had been carrying out a consultation over the payment of sickness enhancements to staff rostered to work in the evening, weekends and bank holidays, who subsequently called in sick.
'Great result'
Clare Curran, director of human resources at the trust said: "After having face-to-face meetings with thousands of staff and gathering views from a questionnaire we have decided to withdraw the proposal.
"We have decided to accept the national proposals on Agenda for Change terms and conditions of service put forward by the NHS Staff Council and this will be implemented from 1 April."
Clare Williams, from Unison, said: "This is a great result for staff who showed their anger at a rally last October.
"It was very clear that staff wanted to retain their national terms and conditions of employment.
"But this dispute was not just about our members, it was about the future of the NHS in this region and across the country and maintaining the quality of care that it provides."
Ms Curran added: "One message that came over strongly from our staff during the consultation was to be tough with people who are abusing the system in terms of sickness absence.
"The trade union side has said it is committed to working with us to implement a jointly agreed new policy on attendance management."