Private Lewis Murphy awarded for Afghanistan river rescue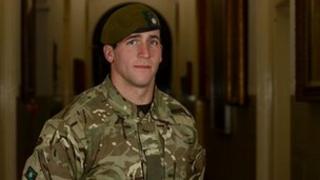 A soldier who removed his helmet and body armour to carry a seriously wounded comrade across a river has been recognised for his bravery.
Pte Lewis Murphy, from Middlesbrough, has been awarded the Queen's Commendation for Bravery for his actions in Afghanistan last year.
The 24-year-old and his team came under fire as they searched for an abducted police officer.
"I didn't think about the danger of it," Pte Murphy said.
"I just thought if I leave my equipment on I'll drown."
His comrade was critically injured after being shot in the head, but the nearest place he could be airlifted from was a sandbank across a deep river.
'Adrenalin took over'
Pte Murphy said he got angry with himself when he faltered halfway across.
"I screamed out and thrashed the water in a rage, asking myself why I couldn't do it," he said.
"After running to the helicopter with him in my arms for another 80 metres, I was totally shattered. I've never felt so drained in my life."
Also among the 118 people recognised in the latest military honours was Serjeant Lee Slater from Bishop Auckland, County Durham.
The 31-year-old soldier was serving with The Rifles in Afghanistan in July when he rescued a comrade when soldiers were attacked as they spoke with a local farmer.
In what was described as a "Herculean effort", Sjt Slater dragged the casualty to cover.
He said: "I could see the rounds landing within 50cm of him in clouds of dust. I knew he had been hit and there wasn't any time to spare. It was adrenalin that took over."
Sjt Slater received a Mention in Despatches.