Whitby lifeboat rescues crew of sailing boat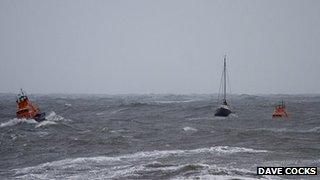 Eight crew members were rescued when their boat's steering and engine failed during harsh weather conditions off the Whitby coast.
RNLI lifeboats from Whitby and Hartlepool assisted in towing the vessel into Tees harbour on Saturday afternoon.
The Warnhw, a former pilot vessel, was travelling from Holland to Scotland.
Coastguard watch manager Graham Dawson praised the crew for calling for assistance.
"The weather conditions weren't ideal for this vessel's journey from Holland to Scotland but the situation became a lot more challenging when technical problems struck," he said.
"The skipper did exactly the right thing by calling us on the radio to let us know about his situation before the vessel got in to real difficulty."