Cleveland Fire Brigade's £42m arson bill revealed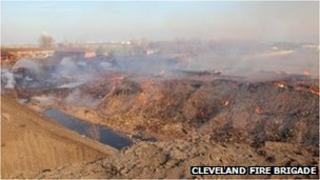 Arsonists have cost Teesside taxpayers £42m in three years, according to new figures from Cleveland Fire Brigade.
Incidents of arson have fallen by almost a third in one year but still account for 71% of fires in the area.
The brigade released the figures as part of its 'Enough is Enough' campaign warning people of arson.
It is being re-launched on Monday at High Clarence Primary School, Port Clarence, which was badly hit by the effects of a fire last year.
A nine-day blaze at a wood recycling facility cost the taxpayer £750,000, the brigade said.
Pupils from the school will act out a courtroom drama highlighting the consequences of arson.
Headteacher Jean Orridge said: "Many of the children were frightened by seeing the fire so close to their homes and the school, and it was important that the community worked together to help the children feel safe again."