Redcar's 'vertical pier' opens its doors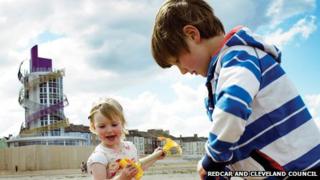 A light dusting of snow and biting North Sea winds make conditions less than ideal for a trip to the coast.
It is just as well then, that the eccentric addition to Redcar's seafront is far from a typical seaside structure.
The centrepiece of a £75m regeneration programme, the 80ft (24.4m) tower, opens this week, having long been the talk of the town.
Now christened the Redcar Beacon after a public vote, its working title of "vertical pier" is still causing headaches for Redcar and Cleveland Council.
A campaign group was formed calling for a traditional pier to be built and rumours that the tower was tilting had to be dismissed.
'Helter skelter'
Pat Gibbon, visiting from Middlesbrough with her husband Dave, looked up at the beacon with a smirk.
"They mentioned pier and that was it," she said. "Once inside it might be fantastic, but they started off with the wrong name and the wrong vision."
Mr Gibbon said it looked like a "helter skelter".
Inside the £1.6m beacon, council leader George Dunning said the authority had responded to calls for change in the town.
"I think you can certainly say the Redcar Beacon is something new and something different," he said.
"We're trying to give people hope."
Councillor Mark Hannon, cabinet member for economic development, accepted communication surrounding the development had been "really poor" in the past.
"The word pier should never have been used," he said as he climbed the 132 steps to the viewing platform.
"The beacon represents the smallest amount of money of the whole regeneration programme but it's attracted the most adverse publicity.
"I would ask people to give it a go, come and have a look around."
Views from the top of the beacon are breathtaking and varied. A wind farm sits straight ahead among crashing waves and a glance behind reveals the Cleveland Hills.
The coastline stretches towards Saltburn to the right while in the opposite direction, Teesside's heavy industry is purring away.
'Too gaudy'
Mr Hannon believes the ongoing investment in Redcar's cultural and creative sectors is key to the area's future.
He said: "In other towns around Europe where industry has been prominent, they've had to diversify. In Bilbao they've done it through a creative sector and a cultural sector."
There are similar ambitious plans for Redcar.
Traders, including a stained glass artist and a jeweller, have already moved into the beacon while a cafe covering two floors has employed 20 people.
Back on the seafront, people remain sceptical.
Dog walker Maurice Scaife, 67, from Guisborough, was also reminded of a fun fair.
"It just looks like one of those slides where you go to the top, get your sack and race down," he said.
Dave Easton from Skelton was forthright.
"It's an eyesore," the 70-year-old said. "It's just too gaudy, a waste of money."
The battle to change those perceptions starts on Thursday.