MP leads housing benefit changes rally in Middlesbrough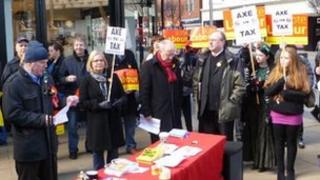 A rally has been held in Middlesbrough in protest at housing benefit changes which opponents call the "bedroom tax".
The new under-occupancy charge will see a reduction in benefits for social housing tenants who have one or more spare bedrooms.
The government says it is fairer to assess payments based on the number of rooms families actually need.
Middlesbrough Labour MP Andy McDonald, who organised the rally, said: "This is becoming the poll tax of 2013."
Concessions already made for foster carers and families of armed forces personnel proved the policy does not make sense, he said.
Producing case studies and asking the government, "Did you ever intend to do this?" would highlight "paucity" of the argument, he said.
Stockton South Conservative MP James Wharton said the measures were "sensible and necessary".
"It's a change about which, to be frank, we have very little choice," he said.
"There is no money left. We've got to do something about it."
Mr McDonald's office said the rally had been attended by about 50 people and signatures had been collected on a petition which would be taken to Parliament after Easter.
It was one of a number of protests held across the UK.