Margaret Thatcher 'credited' for Teesside corporation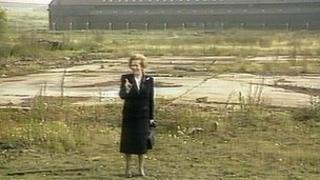 Margaret Thatcher was famously pictured on the derelict site of a former engineering company at Thornaby on Teesside.
The 1987 image epitomises manufacturing decline.
To her critics she was admiring her handiwork, to her supporters she was giving a profile and a prominence to an area that was on its knees, hit badly by an unemployment rate of 20%.
The so-called 'Walk in the Wilderness' was a photo-opportunity to launch the Teesside Development Corporation, the regeneration body that was one of a number set up throughout the country to address decline.
It would have a 10-year life, be given immense planning powers and had the brief to redevelop vast swathes of land all across Teesside, creating jobs.
From 1987, the Teesside Development Corporation was to become the former Prime Minister's pet project.
She received six-monthly reports on its progress, and according to its ex-chairman, Sir Ron Norman, she was a supporter of it like no other development corporation.
"She gave us receptions in Downing Street to which businessmen, potential investors, were invited," he said.
"She got hooked and she was determined to ride it out. Her support was critical. Strangely enough we never got turned down for any government request.
"Whatever budget we put in, we got approved. I don't think that happens very often. I think we had someone marking our card."
'Autocratic'
Why Margaret Thatcher 'marked' the Corporation's card is open to debate. She may well have appreciated the scale of Teesside's problems, and felt it needed her personal patronage.
Or she may have appreciated the fact that its management reflected her public persona. Critics of the corporation said it brooked few arguments and shunned consensus.
Professor Fred Robinson of St Chad's College at Durham University examined the performance of the corporation over its decade-long lifetime, and found parallels with the Prime Minister's perceived character.
He said: "In the corporation's case, they were quite autocratic.
"They used to say things like 'why bother with consultation, it just causes muddle and delay'. Of course, they fell out with quite a lot of local politicians.
"They weren't really interested in any kind of democratic process. They just went for it, just got on with it."
'Suffer fools'
Sir Ron recognises the merit of that argument.
"I think we set ourselves up with the intention of solving a problem," he said.
"It was a difficult problem, we had a short amount of time to get on with it and we couldn't really suffer fools gladly. We had to do what we thought was right."
And having adopted that strategy, the Development Corporation deemed itself a success.
About 12,000 jobs were created, 1,300 acres of land were redeveloped, and £1.1bn of private investment was leveraged into Teesside.
It is a list of achievements that Sir Ron lays at Margaret Thatcher's door.
He said: "She is entirely to be credited with all of its successes. It was her idea, her concept.
"She financed it, she saw it through, and she was determined it would succeed. So the credit is entirely hers."
Today, the site of the Walk in the Wilderness is the car park of just one of many office blocks to line the banks of the River Tees. The area is transformed.
In a speech that the former Prime Minister gave at the launch of the Teesside Development Corporation she promised that "where you have talent, initiative and ability, the money will follow."
In this part of Teesside, the promise appears to have been kept.