Sabic UK chemical factory to shed 110 jobs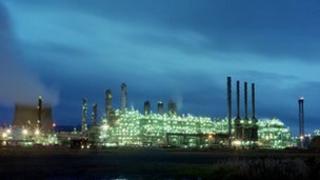 A Teesside chemical plant is to axe 110 jobs because of a downturn in business.
Sabic UK said it did not take the decision lightly to cut its 700-strong workforce in Wilton, but the factory was no longer "sustainable".
The plant, which makes products used in the manufacture of plastic drinks bottles, CDs and car interiors, will also shed 50 contract and agency staff.
Teesside manufacturing director, Mike Ducker, said other jobs may be offered at Sabic's 12 other European sites.
Mr Ducker said: "As with other areas of the company's European operations, it is not a sustainable business model for Sabic to remain as it is.
"The European recession has ultimately resulted in a significant downturn in the demand for the sort of everyday items our products go into.
"Our competition has intensified and we are having to face up to suppliers elsewhere in the world, particularly in the United States and Asia, being able to make the same products that we do at a significantly lower cost."
He added: "We do not make proposals about job reductions lightly and fully understand the impact this will have on our people.
"However, a number of our competitors have already announced reductions to their European workforce."