Rare little tern colony at Crimdon survives eggs theft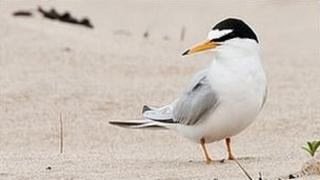 A colony of endangered sea birds that was threatened after a thief stole more than 50 eggs from breeding pairs will survive, according to conservationists.
Durham Heritage Coast wardens feared the established colony of little terns at Crimdon, near Hartlepool, would be wiped out after the theft last month.
Police have yet to make an arrest and security at the site has been boosted.
Heritage Coast officer Niall Benson said remaining birds had laid enough eggs to ensure the colony's survival.
Despite about a third of the 65 pairs abandoning the colony in the wake of the theft, Mr Benson said the remaining birds had produced about 30 chicks.
He said: "We lost 25 pairs from the colony after the theft.
"The culprit still hasn't been found, but we are pretty confident now that the colony will survive.
Humber move
"We now have 30 chicks from 10 pairs that laid eggs again, the oldest of which is about three weeks. Although that is down substantially on the 90 chicks that we had this time last year.
"Some of the birds that were disturbed by the theft have moved down to the Humber, but as long as enough come back here next season, the colony should survive.
"We've got increased security here now and the police have been extremely helpful. The boundary fence has been extended and we now have 24-hour security.
"The last theft we had here was in 1999 and it took a while for the colony to re-establish itself fully again after that. We are in a similar position now."
Little terns need a mixture of sand and shingle to make their nests, which means they usually choose beach areas susceptible to attack from natural predators like kestrels and sparrow hawks.