North East measles cases continue to rise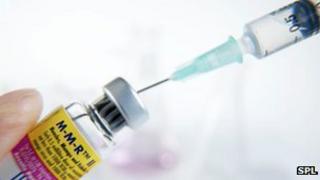 Confirmed cases of measles in the North East are continuing to rise, but at a slower rate, health officials say.
There were 43 new cases across the region in May, with most continuing to be reported on Teesside, Public Health England said. In April there were 112.
The figures take the North East total for 2013 so far to 368 - compared to just two in the same period last year.
Public Health England began a vaccination programme aimed at schoolchildren earlier this year.
'Good progress'
Children aged 10 to 14 in the Middlesbrough, Redcar and Stockton areas continue to be the age group most affected.
A spokeswoman said the slowdown in new reported cases suggested the vaccination programme was having a positive impact, but added that it was "too soon to be sure".
Dr Roberta Marshall, director of the North East Public Health England Centre, said: "Thanks to the hard work of local health teams we are making good progress, but there still remains a large number of younger children and young adults who are under-vaccinated.
"The programme will continue until we reach as many children as possible in the age groups most affected.
"Measles is a highly infectious and unpleasant disease which can lead to very serious complications.
"Children who have not had the MMR vaccine are at a high risk of catching the disease."