Middlesbrough Labour councillors 'paid recruits' claim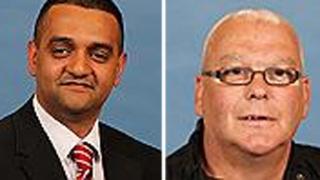 Two Middlesbrough councillors have been accused of paying for people to join the Labour Party.
Pervaz Khan and Derek Loughborough have been suspended after claims they recruited people by paying their initial subscription fees.
Mr Loughborough said: "It's an internal thing and it's getting sorted out internally."
Labour North said it was investigating "concerns regarding recruitment of members" in Middlesbrough.
Mr Khan represents the Middlehaven ward and Mr Loughborough represents North Ormesby and Brambles Farm.
Concerns were first raised locally that a higher number of people than usual had applied to join the Labour Party - about 200 in a short space of time.