Ovington village bridge collapse repairs 'on track'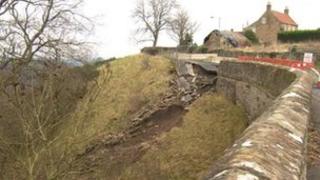 Work to repair a collapsed bridge which left a village split in two should be complete by mid-September, Durham County Council has said.
Residents of Ovington, near Teesdale, have been faced with a 10-mile detour after the main route to the A67 was cut off by a landslide in December.
The embankment is now stabilised, and a reinforced concrete wall to retain the road is due to be built.
This will then be faced by local stone, if possible from the original wall.
Brian Buckley, strategic highways manager at Durham County Council, said: "The work is on schedule and we expect that the road will be open by mid-September.
"We are doing all we can to minimise disruption to the local community and we are grateful for people's patience while we carry out this work."