County Durham exhibition explores the lives of the WW1 pit footballers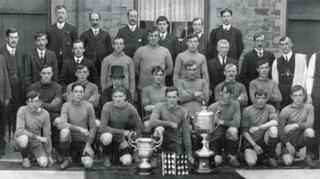 An exhibition charting the lives of a group of pit workers and amateur footballers who went on to serve in WW1 is being held in County Durham.
From Football Field to Battlefield delves into the lives of West Cornforth village's football team of 1913-14.
For many of the players it was their last season before they were sent to the "fields of fire never to return".
It is hoped that by holding the exhibition, more of Cornforth United AFC's history will be uncovered.
The idea behind the exhibition came after an appeal by Cornforth History Society last year to find information about the town's army personnel.
The society hopes it will prompt relations of the players to come forward with stories or documents to share so they can identify all of the young men who played for the team.
'Life and limb'
Chair of the history society, Andy Denholm, began researching the names on a war memorial in his town of West Cornforth after his daughter asked him about the 132 surnames featured.
He has spent 10 years on the research, along with the help of a friend, and has made contact with people as far away as Norway and Australia.
Among the items he discovered the photograph of the football team of pit workers from the town who went on to serve in WW1.
Mr Denholm said: "The photo provided names so it was curiosity to see who survived, who served and who played their last game forever in 1914.
"The lads moved to these villages because of the pit and subsequently came to play for Cornforth United AFC.
"For the lads, who risked life and limb, long hours in the pit and came together in front of a crowd of 2,000 in 1914, it would have been the best days of their lives.
"For some it would have been their last season on the playing fields before they went off to the fields of fire, for some never to return."
One story featured in the exhibition is that of Daniel Thompson Thirlaway who worked as a coal miner driver in the village and played as a forward for Cornforth United AFC.
Mr Thirlaway died in service on 6 December 1917 aged 22 while serving in the 63rd Anti-Aircraft section of the Royal Field Artillery.
'Fought and died'
Mr Denholm found out much more about Mr Thirlaway's life after tracking down his great nephew Lawrence Thirlaway, but little is known about the rest of the team.
Mr Denholm, who served from 1984 to 1992 as a non-commissioned officer (NCO) in the 15th/19th The King's Royal Hussars, said: "As an ex-service man, this was close to my heart.
"I am researching all those from Cornforth and nearby villages of Tursdale, Metal Bridge and East Howle.
"The research will continue, I just appeal for anyone who knows of relatives who served in either WW1 or WW2 to come forward and share their name with me or even a story."
From Football field to Battlefield opens at Cornforth library on Saturday.
"My proudest moments are sharing what information I have with relatives who know very little.
"That's what it means to me, helping and remembering all those who fought and died for me and you," Mr Denholm added.
"My wife says what drives me in this quest night after night and long hours on the lap top is we will remember them. Plain and simple."