Police 'intolerant' of youngsters, says Cleveland's chief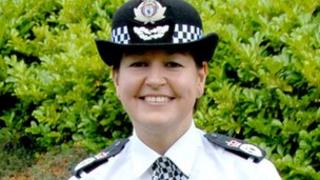 The police and public are intolerant of youngsters involved in anti-social behaviour (ASB) who are simply "growing up", a police chief has said.
Cleveland's chief constable Jacqui Cheer has called for a "mature debate" about what should be classed as ASB.
She also questioned whether officers should challenge groups of young people at the risk of antagonising them.
But Conservative MP James Wharton said police should have the proper powers to deal with criminal behaviour.
Ms Cheer's comments come ahead of planned new laws, which could see children as young as 10 receive nuisance injunctions.
She told the All-Party Parliamentary Group for Children: "I believe we are becoming quite intolerant of young people in public spaces and I think we are too ready as a society, as the police... to label what looks like growing up to me as ASB."
Earlier this year, figures from HM Inspectors of Constabulary showed the Cleveland force recorded more than 70 incidents of anti-social behaviour per 1,000 people in its area. The national average is 40.
'No let-up'
Ms Cheer, who speaks for children and young people on behalf of the Association of Chief Police Officers (Acpo), added: "What is anti-social to one person is just what I did and what many young people do.
"We've closed down a lot of places that people are allowed to go to. We've fenced off school grounds, but where do people collect?
"We get calls, so our officers have to make the decision, do we speak to young people, antagonize young people by asking them what they are up to, perhaps moving them on or asking them to be quiet?
"I'm not saying that we will tolerate behaviour that is harassing, that is making people feel fearful... that is our job. But we need to be careful where the line is."
Chair of the Youth Justice Board for England and Wales, Frances Done, said: "I agree with Chief Constable Cheer that the behaviour of young people, which causes concern to the community, should be dealt with at a local level and in a proportionate way.
"Each incident is different and the police must make a judgement, which takes into account the circumstances of the case, and the effect it has had on the local neighbourhood."
Cleveland's Police and Crime Commissioner Barry Coppinger, said: "There should be no let-up in our approach to ant-social behaviour, but we've got to be sensible.
"We need a debate about how we differentiate between what is anti-social behaviour and what is young people growing up."
But Mr Wharton, whose Stockton South constituency is within the Cleveland force area, said: "I would be concerned at anything that might send out a message to young people to commit anti-social behaviour.
"I speak to people in my constituency who experience this kind of behaviour and it can have a significant impact on communities.
"I am confident that the new legislation will give the police the discretion they need and I will be voting for it."
'Perverse and harmful'
The government's new anti-social behaviour bill, which is expected to be law by the new year, could see children locked up for breaching nuisance injunctions.
But Dr Hilary Emery, chief executive of the National Children's Bureau, said: 'The proposed new anti-social behaviour measures will have perverse and harmful consequences.
"Any child from the age of 10 can receive an injunction for causing nuisance and older children can be imprisoned for breaching their injunction.
"We are concerned that children and teenagers will get into trouble with the law just for being annoying, and that it will penalise them from doing things that all children do as part of growing up.
"It threatens to further increase the divide between generations, alienate children and divert the police from fighting genuine crimes."